by RH – December 11, 2007 via ReclaimedHome.Com
An old article on Hudson Valley Magazine lead me to singer Peggy Atwood's site about her monolithic dome in the Catskills. She decided to have it built after nearly losing a house to a tornado in Tennessee and another near miss Upstate due to a forest fire.
Granted, all dome homes are awesome, but when I came across the Solaleya website, I knew I had discovered my latest obsession. These homes, which have the added plus of totally looking like a spaceship, actually rotate with the sun. Need I say more? THE HOUSE ROTATES WITH THE SUN!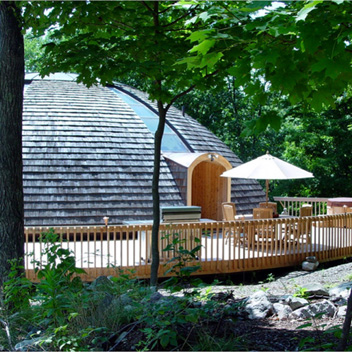 Solaleya homes are made with FSC wood and are insulated with cork. They are earthquake and hurricane resistant and can be equipped with solar panels. Unless I'm reading the brochure wrong, prices don't seem to be insane. For $64k, you can get a 420 square foot "guest room". $ 834k will buy you a 6307 square foot home with 25 foot ceilings. Of course, options and land not included.
Although I'd love to see one of these under my Hannukah menorah this season, I still can't overlook the fact that, as green as this is, it is still new construction.
Architecture
,
Carbon Reduction
,
Design
,
Dome Homes
,
Dome Homes
,
Earth Shelter
,
Energy Efficient
,
monolithic dome
,
ReclaimedHome.Com
,
ReclaimedHome.Com
,
Solaleya