by admin – December 6th, 2007 via GreenTechGazette.Com
That's correct, a group of Welshmen have created a hydrogen fuel cell minibus that will go on sale for only $190,000. Researchers at the University of Glamorgan in Wales developed the fuel cell minibus known as the Hydrogen Bus and put it on display at the Tenth Grove Fuel Cell Symposium in October 2007.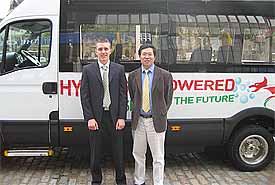 The Hydrogen Bus is capable of carrying 16 passengers, primarily students and faculty around the University. This H2 minibus is actually a tribrid vehicle powered by a fuel cell, ultracapacitor and battery pack. The vehicle can get up and go up to 55 mph with a range of 150 miles before refueling.
Dragon Coachworks designed the body for the minibus and plans to commercialize the vehicle for sale in Europe and the U. S. The $190,000 price tag is far below the cost often quoted for other fuel cell vehicles, which can be in excess of $1 million each. Because of newer technology and mass production methods, however, the price keeps dropping on such fuel cell vehicles.
So, get on the hydrogen bus, Gus. Don't need to discuss much. Just drop off the key, Lee and set yourself free to experience new, exciting, low cost, zero emissions automotive technology.
Tags:
Carbon 0 (Zero-Carbon)
,
Carbon Reduction
,
Design
,
Dragon Coachworks
,
Electric Vehicle
,
Fuel Cells
,
GreenTechGazette
,
GreenTechGazette
,
Hydrogen
,
Technology
,
The Hydrogen Bus
,
Transport
,
ultracapacitor
,
University of Glamorgan in Wales
,
zero emissions automotive technology