by admin – December 17th, 2007 via GreenTechGazette.Com
Phoenix Motorcars may just be the Next Big Thing in electric vehicles. And, these next big things will likely be produced in Mexico according to the latest reports. Last week, I talked about the promise for lithium iron phosphate batteries (LiFePO4) taking over the electric vehicle market.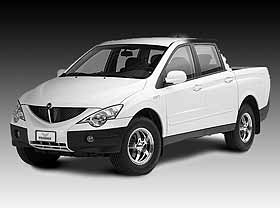 But, there is a different kind of lithium battery, used by Phoenix Motorcarss that may mean massive change in the kinds of vehicles people drive. Lithium titinate batteries made by Altairnano allow the Phoenix Motors sport utility trucks (SUTs) to recharge in 10 minutes, travel 100 miles and achieve a lifespan of 250,000 miles.
The problem with lithium ion batteries in the past have been slow recharge times and operating at relatively low temperatures. If one tries to fast charge a lithium ion battery heating the units to higher temperatures, then fire and explosion become a real problem as with the laptop batteries that were recalled recently.
As I had talked about earlier Exxon has developed a thin film layer for lithium ion batteries that enhance safety. There are even some other battery manufacturers such as Altair that have made lithium ion batteries that are safe and stable and can be recharged quickly, but use 250 kilowatts of power to do so or the same power as five large office buildings at their peak usage.
But, the lithium titinate batteries used in the Phoenix Motorcars SUTs are claimed not use nearly as much juice as this (although probably still a sizeable amount). When any automaker starts setting up shop in Mexico, it's a sign that mass production is right around the corner. Look for Phoenix Motorcars to make an impact on the market soon.
Tags:
Altairnano
,
Carbon Reduction
,
Design
,
Eco-Friendly
,
Electric Vehicle
,
fast charge
,
GreenTechGazette
,
GreenTechGazette
,
lithium battery
,
lithium iron phosphate batteries (LiFePO4)
,
Lithium titinate batteries
,
Mexico
,
Phoenix Motorcarss
,
Technology
,
Transport